You know I love a retro toy!  Dorothy's room is full of collectibles that probably spark more joy in me than they do her, but I usually dislike a retro reboot.  Somehow the 'all new version' of something great, tends to lack nostalgia for me.  It's very rare that a brand is able to find that sweet spot between staying true to the original and honouring the new and shiny.  But somehow the new Care Bears, have managed it.
And thankfully Care Bears are one retro toy that she and I both love, so you get to see Dorothy's sweet face falling in love and not mine 🤣
Gifted for review
Over the years I've picked up one or two 1980s Care Bear teddies that sit on Dorothy's shelves.  I was so pleased that when they arrived, Daydream Bear, one of three new Care Bears, had the same shape as the originals from that era.  Did tou realise that Care Bears were 40 years old now!?
At 14″ tall, the new bears are a little bigger than their older pals (all the better for cuddling), a little brighter (all the better for matchy outfits) and a lot fluffier (always a good thing)!
The three newly released Care Bears have the most adorable expressions on their faces.  There's True Heart Bear – a baby pink bear with a star and heart belly badge.  They always tell the truth.
Then there's Super Star Bear with bright yellow fur and a star on their belly badge.  Super Star Bear is always full of positivity.
Lastly there's Daydream Bear – they're purple with a sweet heart belly badge.  As you can imagine they're always daydreaming, in fact their box even says 'dreams come true'.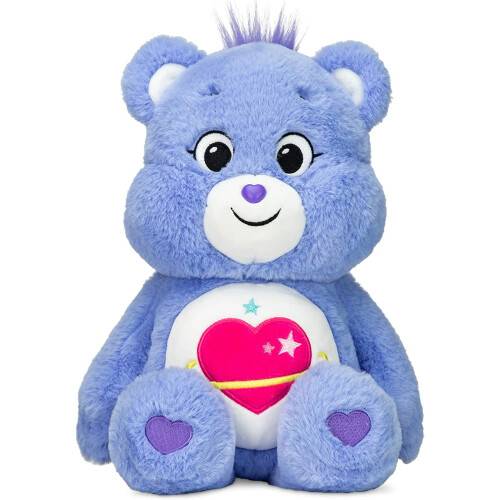 When Dorothy met Daydream Bear for the first time they became instant BFFs.
You can buy your new instant BFF for around £20 from Clintons and a variety of toy shops, but if you're planning on giving one as a Christmas gift then I'd get there quickly as they seem to be selling quite well!
Did you have a favourite Care Bear when you were little?
Love Rachel ❤️