When Beth was little, I bought her a play kitchen.  There was no where near as wide a choice as there is now.  Plastic reigned supreme and wooden kitchens were extremely expensive.   She ended up with the pinkest, girliest, princess kitchen you've ever seen.  She loved it but I hated it with every fibre of my being!  I dreamed of a wooden play kitchen.
This Christmas we knew that we wanted Dorothy to have a play kitchen.  When I say we, I mean Phill and I of course but also Beth – because we wanted to play with it too ?
I started to search months before Christmas but I had no luck.  All the kitchens I really liked were well over £150 and without any accessories.  That just wasn't anywhere near our budget (I mean we don't even have a kitchen right now!)  More reasonably priced kitchens were nice enough but I couldn't help but imagine how much better they'd look with a lot of little customisation.  Once I'd made the changes I had in mind, my overall spend would be back over the £100 mark.
So I took the a chance and bid on a second hand Kidcraft kitchen on EBay – and I won!
This little beauty had seen some hard times – it had missing shelves and doors.  It was covered in chips, stickers and scratches.  It was definitely a project but for £5 – yes £5 – it was worth a shot!
For a long time we stored the kitchen away and I'd occasionally look at it and think how I should really get started.  Then I'd walk away and do something else!  Eventually I had no choice but to tackle it.  Christmas was coming fast.
Working through the night while everyone else slept (because I'm basically nocturnal), I started by scrubbing the whole kitchen.  Then I removed doors and shelves and any accessories that I could.  I gave the surface a quick sand and then used a variety of paint that we had left over from other projects.
I spray painted the accessories such as the handles, sink and hob and added some spray painted drawer pulls as hooks for utensils and tea towels.
I'd picked up the love heart shelf last year when British Home Stores (RIP) shut down and sold off their fixtures and fittings.  I added extra shelves inside the cupboards and replaced the missing door with a sweet curtain.
Then we just had to wait for the wood glue to dry and for Father Christmas to deliver all her little accessories.
When I looked at the final product and worked out the overall cost, I felt very smug indeed!
£5 – kitchen
£2.50 – heart shelf
£1.75 – dowel and extra internal shelf
£4.00 – fabric
The drawer pulls, spray paint, paint and wood glue were all already sitting around our house, so they cost nothing.  THat makes a total spend of less than £15. *gives self a pat on the back*
Once all of her presents had been opened and the kitchen accessories unwrapped, we decided to remove one of the hobs so that Dottie would have more space .  A girl needs room to chop things after all ?
I think it's amazing!  I spend more time tidying and arranging the play kitchen than I do my actual house!
Oh oh Dottie likes it too ?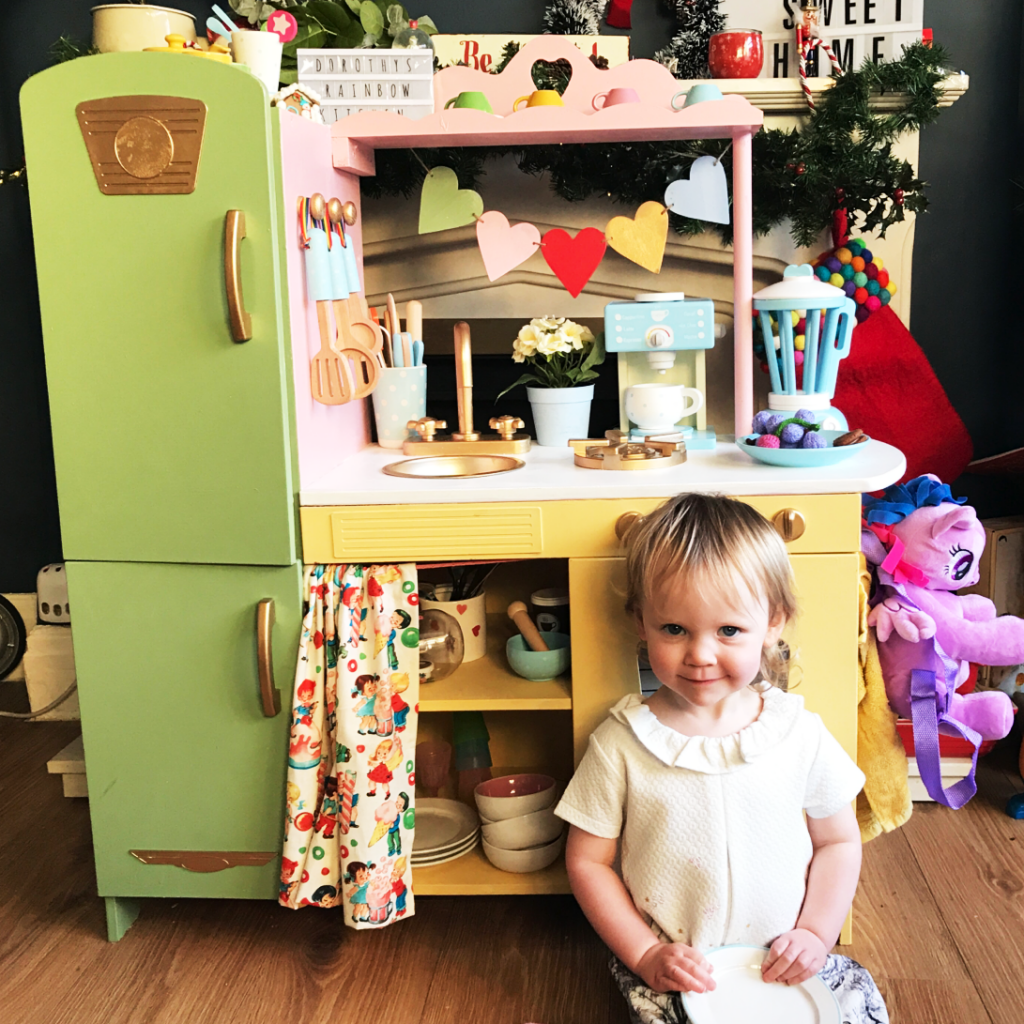 Have you ever taken on a wooden kitchen project?
Love Rachel ❤️