I really wasn't sure what to expect when we were invited to see Robin Hood at The Duke's Theatre in Lancaster.  We've been invited to about 3825384 pantomimes this season and initially I presumed that Robin Hood was just another panto.  But then I remembered that Dukes have put on some truly incredible productions this year and I wondered whether this was actually a 'serious' play.
any age is the perfect age for this charming production
I asked the organisers if it was suitable for Dorothy and they said she was the perfect age.  They were right but I daresay that any age is the perfect age for this charming production.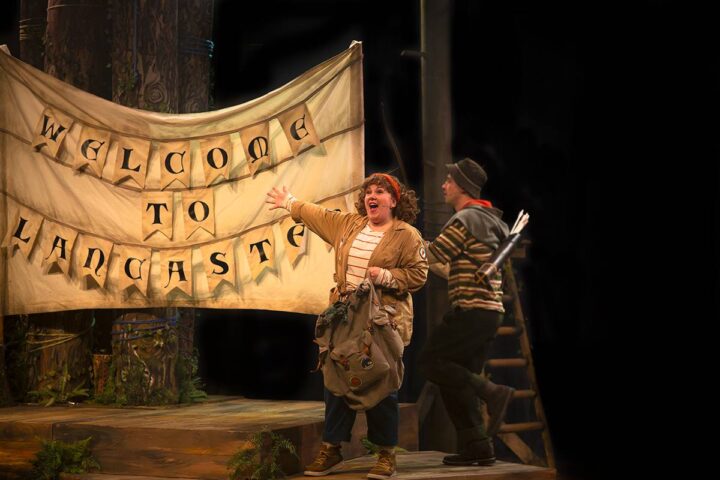 Set in Lancaster in a time long ago, Robin Hood was like a pantomime, if pantomimes were created by actual artists.  It was beautifully put together with unique audience participation including Dorothy being adopted in to Robin's merry band!
The sets were simple, naturalistic, arty – they left just enough to the imagination to force the audience to buy in to the magic and the actors' slight of hand did a great job with the rest.  The children in the audience sincerely believed that there had been arrows flying around!
Robin Hood had all the usual suspects. The immediately lovable Robin of course and Maid Marian who had the most incredible voice that I could have listened to all night.  But the Sheriff was a real surprise!  The Sheriff of Nottingham arrives on the scene with Elvis-like charisma and is instantly hated and loved by the audience in equal measure.  Dorothy is still humming his theme tune and should she copy his rather interesting dance moves at school, I shall be directing any enquiries from teachers to the Sheriff himself 🤣
Dorothy's favourite characters were the sheep – trust me, they're a treat – but I was quite taken with Tuck and Ellen-A-Dale – Robin's loyal friends.
I was especially pleased to see the Pendle Witches included in the story-line.  Unlike pantomimes where characters often take a moment to mock local towns and their inhabitants, Robin Hood celebrated local folklore and history and intertwined it into the characters' adventures.
The production was further improved by the inclusion of a British Sign Language interpreter.  I don't know if anyone in the audience needed the interpreter to be able to access the show, but even if they didn't, having them there has further normalised BSL for all the attendees and is a great step towards proper inclusion.  I wish more theatres made such an effort.
All in all Robin Hood was an absolute joy.  A love letter to Lancaster and a statement about sharing, respecting nature and never giving up.
If panto isn't quite for you but you still want audience participation, catchy musical numbers and lots of laughs then I would heartily recommend that you buy one of the few remaining tickets for Robin Hood.
Love Rachel ❤️