When I was a little girl I had a Strawberry Shortcake doll – I loved her.  She smelt absolutely amazing.  In fact she smelt the way this fudge tastes!
Over Christmas we ended up with four tins and packets of short bread.  I mean I like short bread but that's a lot of short bread!  So the other day Dorothy and I used some of it to make fudge.
I wish I could say that I'd flavoured and coloured the fudge with real strawberries but that would be a lie 😬
This fudge is very sweet, even for me (!) and is nutritionally bereft.  But what it lacks in wholesome natural ingredients, it makes up for in nostalgic cuteness.
You will need
Short bread – we used around six sticks
110g unsalted butter
190g icing sugar
180 ml double cream or alternative
2 1/2 cups mini marshmallows
2 teaspoons strawberry flavouring
A little red or pink food colouring gel
Red heart sprinkles
230g white chocolate – chopped into small chunks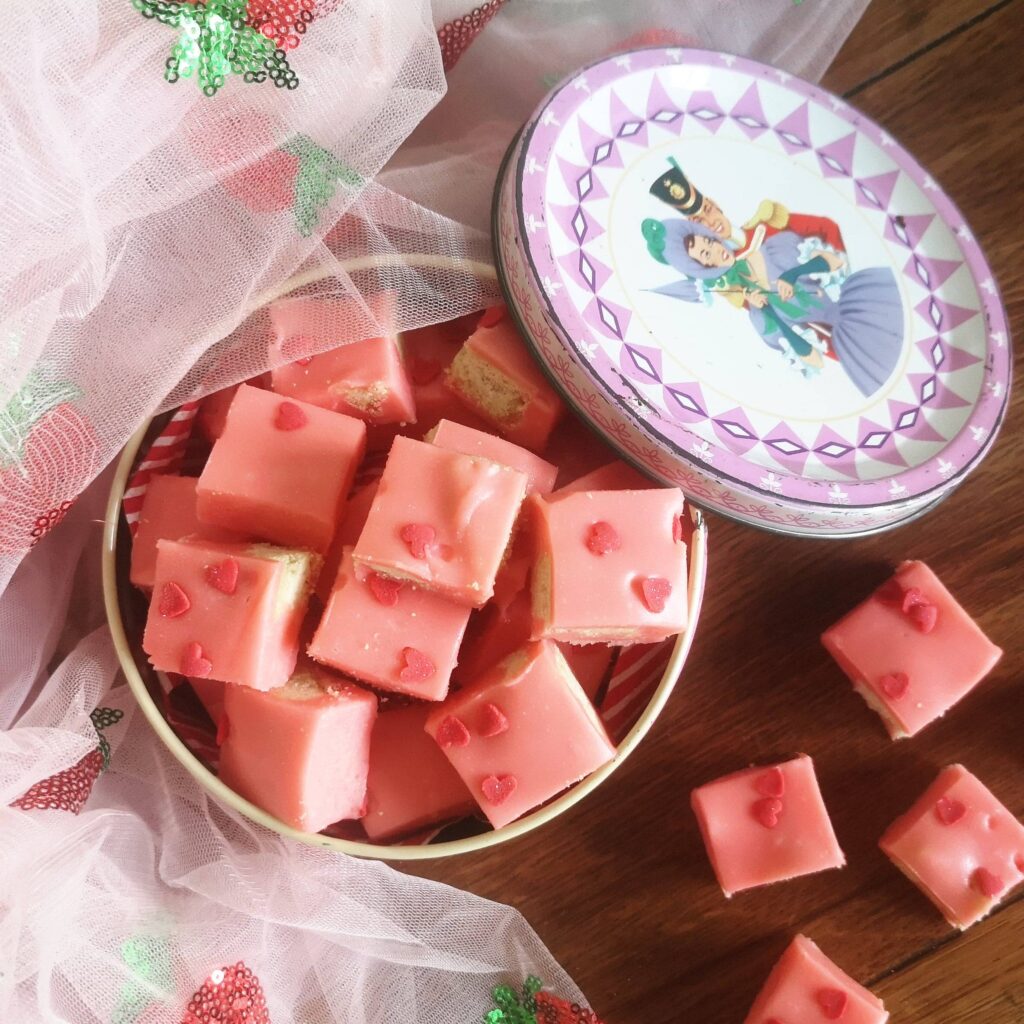 Method
First things first, line a square oven dish with baking paper.  Make sure you do this really well!
Place the marshmallows, butter, cream and sugar in a large pan
Melt over a medium heat, stirring all the time
Bring to the boil and hold there for five minutes
Add the chocolate, and flavouring and mix until melted
Now add a little food colouring and mix well.  Little by little, add more until you get the shade you want
Pour a little of the fudge mixture into the dish and spread out
Now place some short read on top.  We used around six 'sticks' of shortbread
Pour over the rest of the mixture to evenly cover the short bread
Tap the dish onto your worktop to remove any bubbles
Sprinkle love hearts over the top.  We added a little but of lustre powder because Dorothy is OBSESSED with sparkles
Allow to set completely – this can take several hours
Lift out of the dish using the baking paper and slice into squares
The fudge can get a bit sticky if you keep it in the fridge so I recommend leaving it out or just eating it all.
Love Rachel ❤️