*press trip
I was invited to visit and review LegoLand with a view to promoting their school holiday event – Merlin's School of Magic.  However the first thing I'm going to tell you is…don't take toddlers to Legoland during the summer holidays!
Seriously.
Don't do it to yourself.  It's so busy and while children are little, you may aswell make the most of the fact that you can take them during the week, during term-time.  LegoLand has some especially appealing deals for children of this age group.  For example right now you can visit with an under five for just £9.
As always with my reviews, I'd like to be honest and helpful and so it's probably best to get a few negatives out of the way.  It was hot, too hot, so hot that the children were sweating and the grown ups were getting very grumpy.  I raised this issue with a member of staff when the situation became so bad that I thought I personally might faint.  Their response was disappointing.  I was told that there was no way to improve the temperature and that the heat should be expected given that the attraction was so busy.
And it WAS busy, which meant that we struggled to see the lady who welcomed us to the Lego Factory and told the children how Lego was made.  I'm sorry to say that she wasn't the most engaging of people.  I expect she'd gone through that script one too many times in soaring temperatures.
Afterwards we spent some time waiting in line for the Kingdom Quest ride (pre-schoolers aren't able to use the other rides).  It was a bit chlostraphobic and wouldn't have been comfortable for alot of children with additional needs.  The saving grace was the Lego stations that were dotted up and down the queue.  They were just enough to keep our tribe entertained!
I discovered later that we could have jumped this queue as I had a green lanyard.  The lanyards are part of LegoLand's scheme to better accommodate visitors with invisible illnesses like mine.  Obtaining a lanyard is easy and information about it is clearly visible in reception.
Ok so I sound like a right negative Nancy but wait, there were brilliant things about LegoLand!
The Kingdom Quest ride was a big hit, particularly with the Mums 🤣 but the children were really taken with the model towns and cities.  Really they would have been happy if the whole visit had been nothing but models!
After the models you enter the main space.  There's a small soft play area, a couple of rides (for older children than ours), numerous build stations, a mini cinema and a cafe.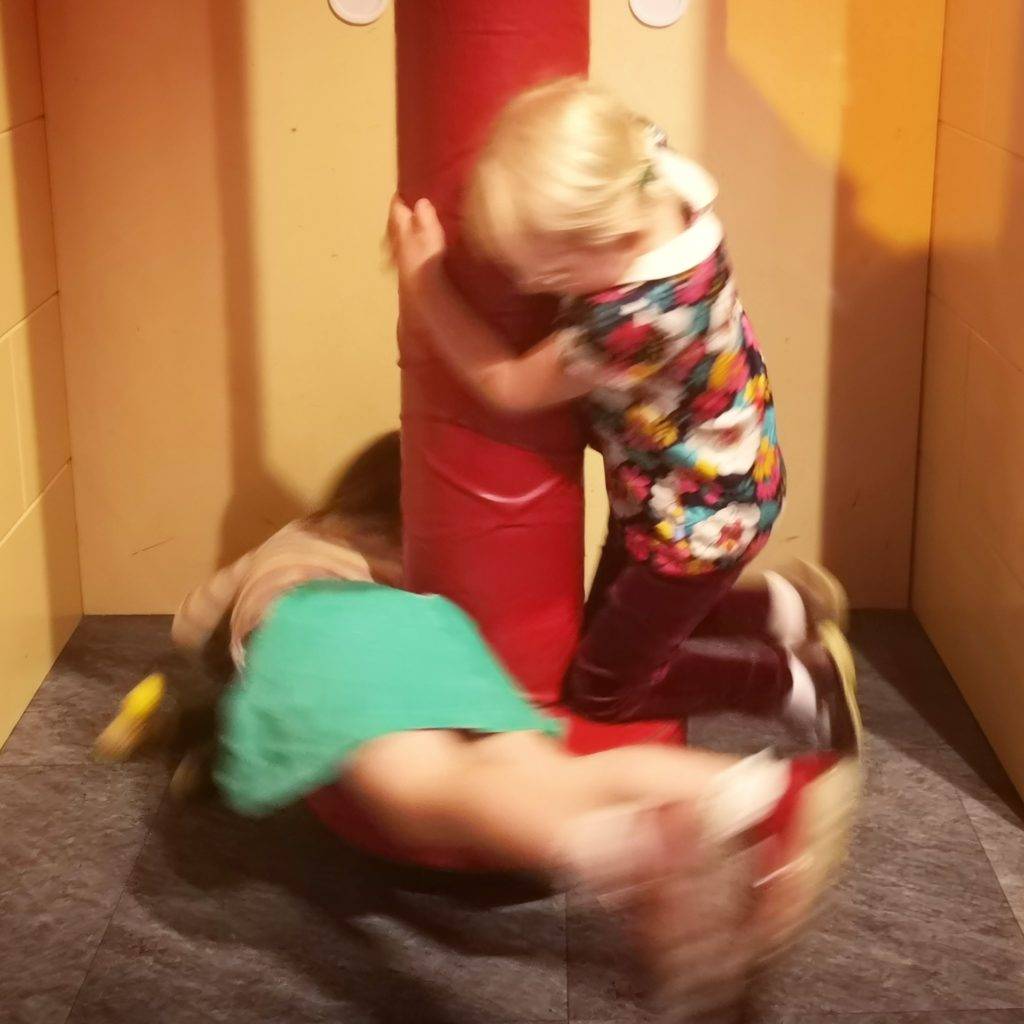 The cafe is predictably expensive but I was impressed by their commitment to serving people with restrictive diets.  They were very helpful in terms of filling water bottles and checking for allergens.  The Duplo Farmyard is  located within the food area which is genius!  Without it, we'd have had three year old running away from us, but having the Duplo space nearby meant that even if one child was struggling to sit and eat without getting distracted, we could stay at the table with the others as we could see where they were.
The main area showed how different the children are!  Some were drawn to building vehicles, one spent most of their time sat in a model car and another couldn't get into the soft play area quickly enough.  So there's something for everyone, even if you are too little for the rides.  There's even a moving climbing wall!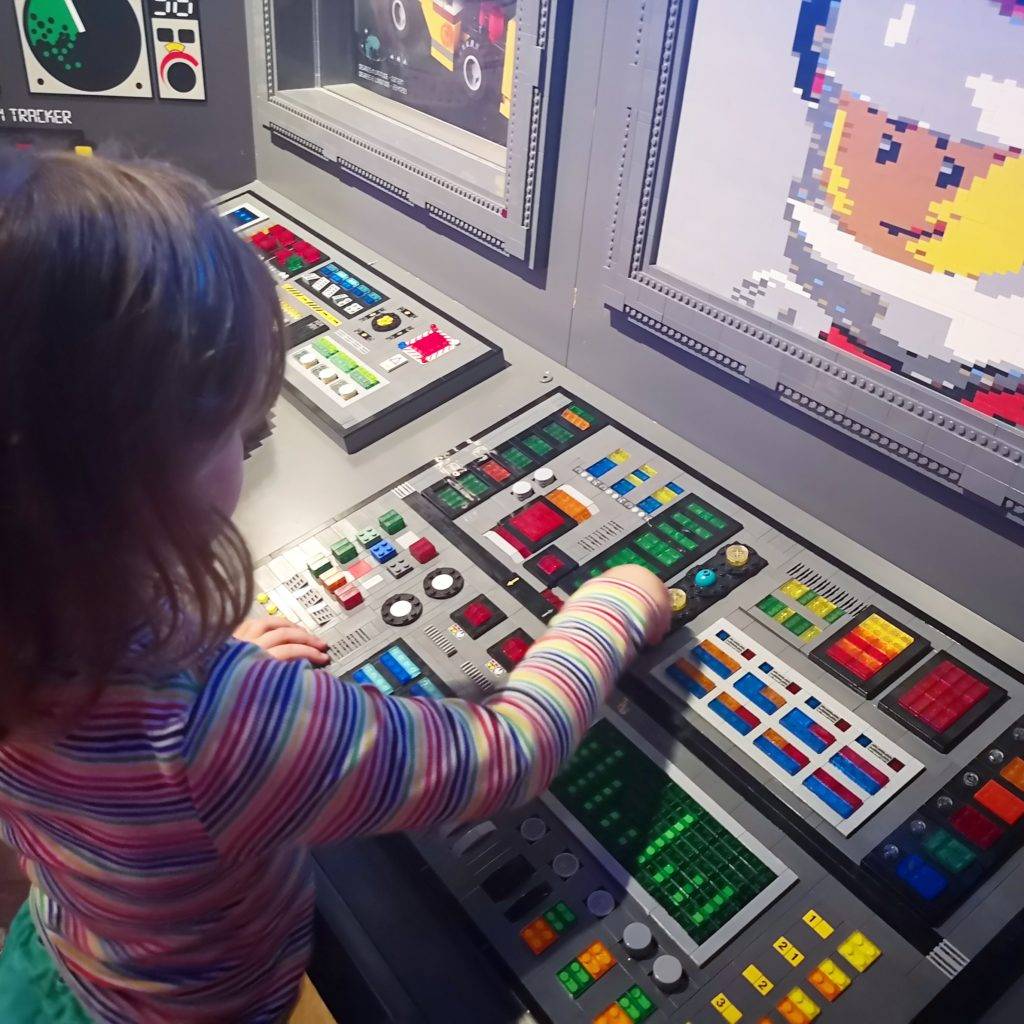 Because we visited during the Merlin event we were even treated to a magic show and a wand building contest.
The children would have stayed longer but we were too hot so we moved on and found the Best. Thing. Ever!
There's a stop motion studio, with enough stations for around eight children (or adults of course) to create their own movies.
As you'd expect, you exit LegoLand through the gift shop.  But you might not expect the price range.  Of course you can take home any number of Lego sets for £100+ each but you can make your own mini-figure and buy it for just £3.  I think this is a bargain!
Dorothy made two 'interesting' mini figures and a Father Christmas.  My friend's little boy made himself and his Grandma who recently went to Heaven ❤️
For an extra £5 you can buy a two attraction ticket meaning that you can also visit SeaLife Centre which is almost next door.  So that's where we went next!
 In a nutshell – 
The grown ups found this quite stressful but the children loved it.
Food was expensive but the gift shop was reasonable.
Three year olds can't use all parts of the attraction.
Dress for high temperatures, wear flat shoes and bring water.
Love Rachel ❤️
Our group was given complimentary entry in return for my honest review.