Before Dorothy was born, I worked in Manchester.  I spent alot of time wandering around the city's vintage shops, sipping tea in quaint cafes and pretending I knew a thing or two about jazz.  For a vintage girl, Manchester is a great place to call home.
For the past couple of years I've been an absentee member of the Manchester vintage scene, so last week I spent the day pretending to be a vintage tourist.  I visited my old stomping ground and found out what I've been missing.
Of course I was expecting some good strong Mancunian weather, but nothing quite prepared me for the torrential downpour that greeted me!
I headed straight for the Northern Quarter which houses some of the most amazing vintage shops.  But if you time your visit well, you can also find pop up fairs such as The Vintage Home Show which is held in Victoria Baths (honestly the most instagrammable venue you've ever seen) or Vintage at Manchester Cathedral which is right in the city centre.
Affleck's Palace
I always start in Affleck's Palace, not just because it has the most incredible range of unique vendors, but also so that I can visit Joy!  Joy France curates the most amazing space on the top floor.  All are welcome to step inside and do something creative – the only rule is that you have to leave it there.  At any time you might find someone painting, writing poetry or even having a rap battle.  Yes a rap battle and the most popular lyricist is Joy herself.  Here she is with local rapper Bobby Rex.
Kilo Sales
By a stroke of luck, I visited Manchester when there was a Kilo Sale at Sachas's Hotel.  This particular sale was hosted by Blue Rinse Vintage but there are a few around.  I found this delightful 1960s dress which fit like a glove and cost me the grand total of £6.50
This mirror, proped up behind a rail of clothes is what constitutes a changing room in alot of Kilo Sales and vintage fairs, which is why I recommend that you invest in a proper old fashioned slip.  That way you can get changed easily without flashing your pants at the general public.
I'm a big fan of 40s, 50s and early 60s style but that does tend to be in short supply.  That was the case with the Blue Rinse Kilo Sale, but if you love 80s and 90s style then you would have had a field day!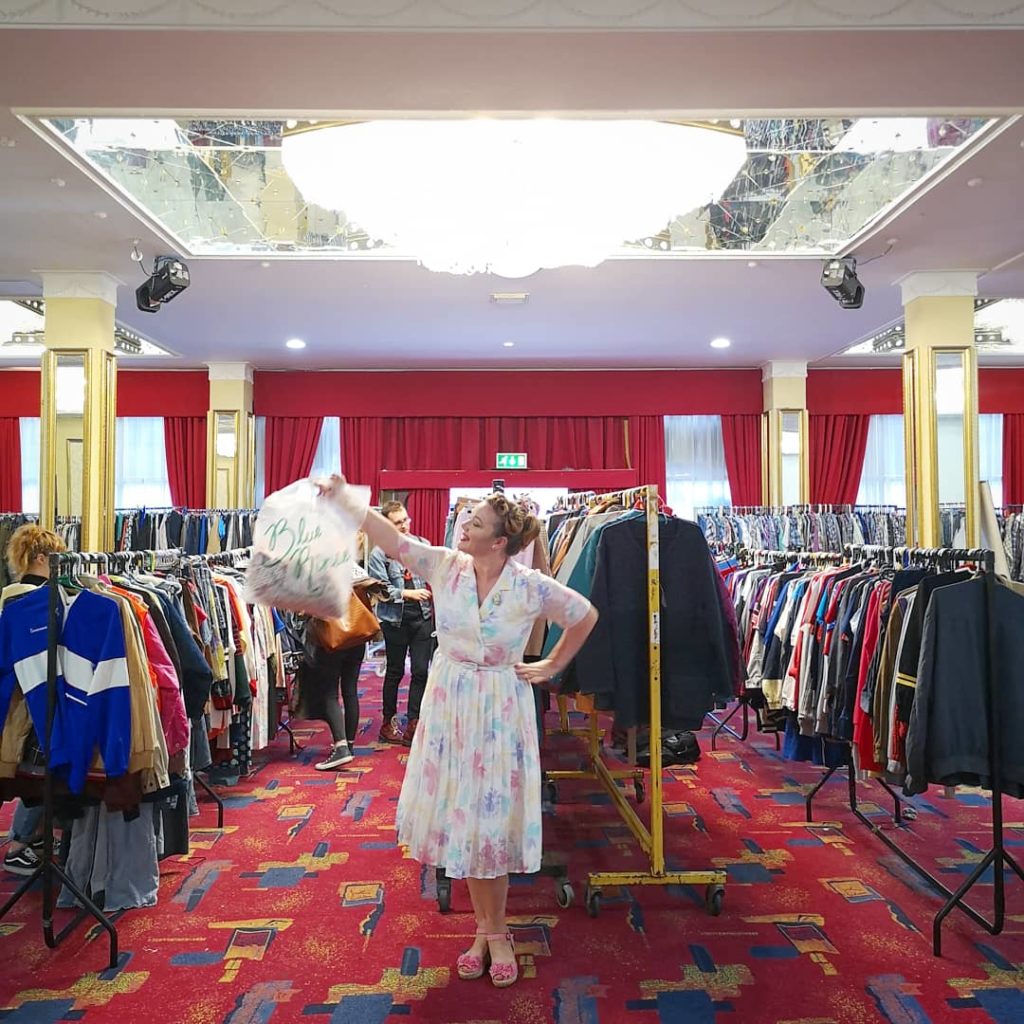 Blue Rinse
If you've checked out the Blue Rinse Kilo Sale then it'd be rude not to check out the shop.
It's MUCH bigger than it looks and I loved that there was a lounge area in the shop, but there was very little in here for me.  I found a nice German, '80s does 50s' dress, incorrectly labelled as a Japanese dress and ludicrously priced at £26.  It really frustrates me when vintage shops labels pieces incorrectly.  You pay a premium for their knowledge and after my Kilo Sale bargain I just couldn't stomach it.
Cow Vintage
So I said auf wiedersehen pet, to my lovely find and headed to Cow Vintage, a store that has made upcycling into a fine art!
I found some beautiful pieces but none that would fit my boobs or bum, such is the challenge when buying vintage clothes.  But it's nice to look 😊
I like the way that Cow Vintage takes as much care when displaying their menswear as they do their womenswear – that's not always the case.  The shop is light and airy and really pleasant to shop in with a good mix of eras – mainly 60s onwards.  Oh and they don't like you to climb in their display windows.
Oxfam Originals
Just a little walk away from Cow is Oxfam Originals.  It's a teeny tiny shop but wow!  They had some real beauties.  I picked up a stunning 1950s skirt for just £7.99 and treated myself to a truly beautiful 1950s Carnegie dress.  Now the dress doesn't exactly fit me right now …. but it will!  Mark my words!
The rails are filled with glorious patterns and textures and even for the most decadent ballgown, the prices didn't go over £50.
Retro Rehab
I went to Retro Rehab next which can only be described as a vintage boutique.  The interior is exquisite – don't be fooled by the peeling paint outside.  Sadly the prices were exquisite too with a simple 1960s nightie costing nearly £30!   Nevertheless if you're after something special, this is the kind of place where you're likely to find it.
I hate to admit it but I always feel a little bit intimidated by this store – it's just so pretty.  As I stood there with soggy feet and heavy bags, I didn't feel like I could take pictures of the interior…so you'll just have to take yourself down there.
Incidentally the only part of me that stayed dry was my hair thanks to this little baby.  Laugh if you will but I didn't spend all that time on my hair for mother nature to ruin it 😁
Bags Of Flavor
Not far away is a surprising little shop called Bags of Flavor.  Now I forgive them the American spelling because Glen the proprietor was such a legend.
They only sell menswear but it's definitely worth a visit if you're looking to buy a gift for a vintage loving bloke or if you'd like some local knowledge.
Sugar Junction
After all that *cough hard work, it goes without saying that you need a nice sit down with a cup of tea and really there's nowhere more perfect that Sugar Junction.
They have a huge range of teas and some delicious cakes but I recommend that you try a pot of 'Pucker Up Love'.  You won't regret it.
Phill joined me at Sugar Junction and we headed off for some food and a cheeky cocktail.
Do you have any good vintage stores where you live?
Love Rachel ❤️