For over a decade Beth was an only child.  That wasn't how I'd planned things to be.  (Mind you I hadn't exactly planned Beth – she was a bit of a surprize, the best surprize ?)  I'd planned to have more children.  A gaggle of noisy, chatty, funny children that would play and grow around me, and Beth, my darling first born, would be their fearless leader!
Sadly that wasn't meant to be.
When Beth was a little more than a year old, I found out that it was unlikely I'd conceive again.  I spent the next 12 years grieving the loss of my fertility and what that meant for my daughter who dreamt of being a big sister.  Marrying me in 2012 meant that Phill wouldn't never see a baby being born – that hurt my heart in ways oat explain.  If you've been following our story then you'll know that it has a happy ending, a rainbow after years of storms.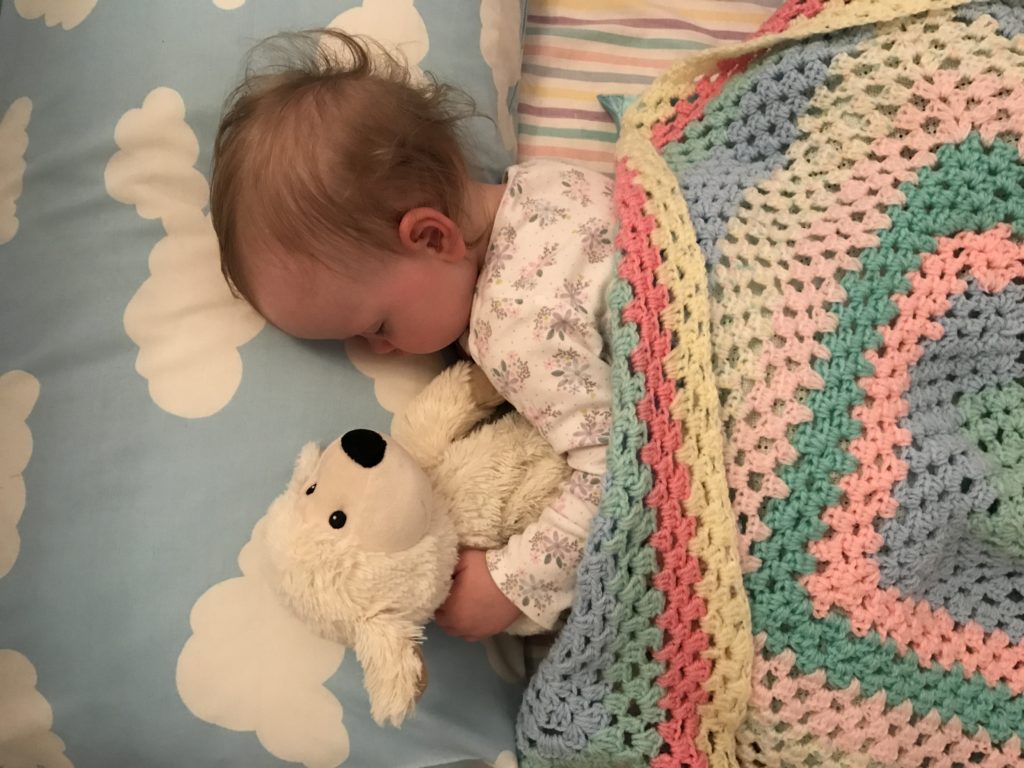 In January 2016 thanks to the magic of IVF, we welcomed Dorothy into our family.  But by January 2017 the questions began again.
"Are you planning to have any more children?"
"Ooh will she be getting a little brother or sister soon?"
"Aren't you broody yet?"
You see I'm 33 and married which means that the general public thinks my reproductive system is open for discussion!  In the past the questions used to break my heart.  I can laugh about them now because we have two children.  Beth has a sister like she always wanted, Phill was right by my side when she came into the World and crucially, I know that I could potentially have another child. We had a very successful round of IVF.  Not only did we get Dorothy, we have seven frozen embryos waiting for us at Liverpool Women's Hospital.
Yes that's right ladies and gentlemen – I have nine children!   Granted seven of them are a bit on the chilly side but they're still ours!  So I don't feel barren in the way I did before.  When someone asks if we're having more, I can say maybe and end the conversation without a massive explanation and without feeling like the World is crumbling around me.  Before IVF it wasn't like that – people used to ask me about babies all the time.  I used to think that because I had Beth, 'they' assumed that I didn't have any issues, but the truth is that people don't seem to think that deeply before asking the most personal of questions.
This week is National Infertility Week and I'm reminded that right now 1 in 8 people is longing for a child that they can't have.  1 in 8 whose heart breaks once a month when their body tells then no again.  1 in 8 whose lives are on hold.  1 in 8 who face painful questions and assumptions.
I speak quite openly about my IVF journey, infertility and everything that comes along with it – mainly because I'm an oversharer with a big mouth!  Not everyone can do that.  For some, the experience of infertility is too painful to discuss.  Infertility is a lonely condition – it isolates you from friends, family, even your partner.
It's hard to explain how you feel.  You hurt if you're omitted from conversations about babies and hurt when you're included.  You feel jealous when other people's tummies grow fat with new life and then you hate yourself for it.  You hate that you can't be like everyone else and give the ones you love, the one thing they want, the one thing you want.  You feel guilty all the time.  The guilt is overwhelming.
I'd love to write a post entitled 'How to Help An Infertile Person' or 'What to Say To Someone Who Can't Reproduce' but I can't – everyone is different and every day is different.  My best advice would be not to assume.
Try not to assume that everyone can conceive easily – what might seem like making conversation to you could be torture to a person who can't have children.
Try not to assume that babies are off limits – if you know someone is struggling, don't pretend that babies aren't happening!  Infertile people don't want to be cut off from everyone else, so please do invite them to showers and christenings, ask if they want to hold your little ones, just make sure they know its ok to say no.
Try not to assume that all infertile people don't want to talk about it – before Dottie, some of my favourite friends were the ones who knew me well enough to make jokes.  Talk of my near-ish future without young children – all white sofas, Louboutins and no need for birth control – would make me belly laugh.  It's ok to ask your friend if and how they want you to handle the situation.
Love Rachel ❤️