If you have a glut of tomatoes from your garden or allotment, or even if you manage to score a load of cheap fruits from the reduced section at the supermarket – this is the perfect way to use them up!
I've been making tomato soup this way for about 15 years and I've only ever met one person who didn't like it.  I'm looking at you Jamie!
Baking the tomatoes, peeling and roasting them, might seem like a chore but I promise you it makes for a much sweeter, slightly caramelized flavour.
If you're short of time then you can make this in advance.  In fact it always tastes better warmed through the next day.
You Will Need
Around 12 large tomatoes
700g pasata
1 medium onion or two small
3 new potatoes or 1 medium baking potato
3 cloves of garlic
a sprig of rosemary
a few basil leaves
Olive oil
1/2 pint chicken or vegetable stock
A splash of balsamic vinegar
1/2 teaspoon smoked paprika
A pinch of sugar
To finish
A little double cream or creme fraiche
Black pepper
Basil
A handful of small tomatoes
A few slices of chorizo
Method
Preheat the oven to 150
Rinse your tomatoes and place on a baking sheet
Bake for around ten minutes until the skins split and begin to peel
Peel the tomatoes and place in the bottom of a large, lidded over-proof dish
Finely chop your potato and add to the dish.
Add roughly chopped onion, garlic, basil and rosemary
Drizzle with a little olive oil and a splash of balsamic vinegar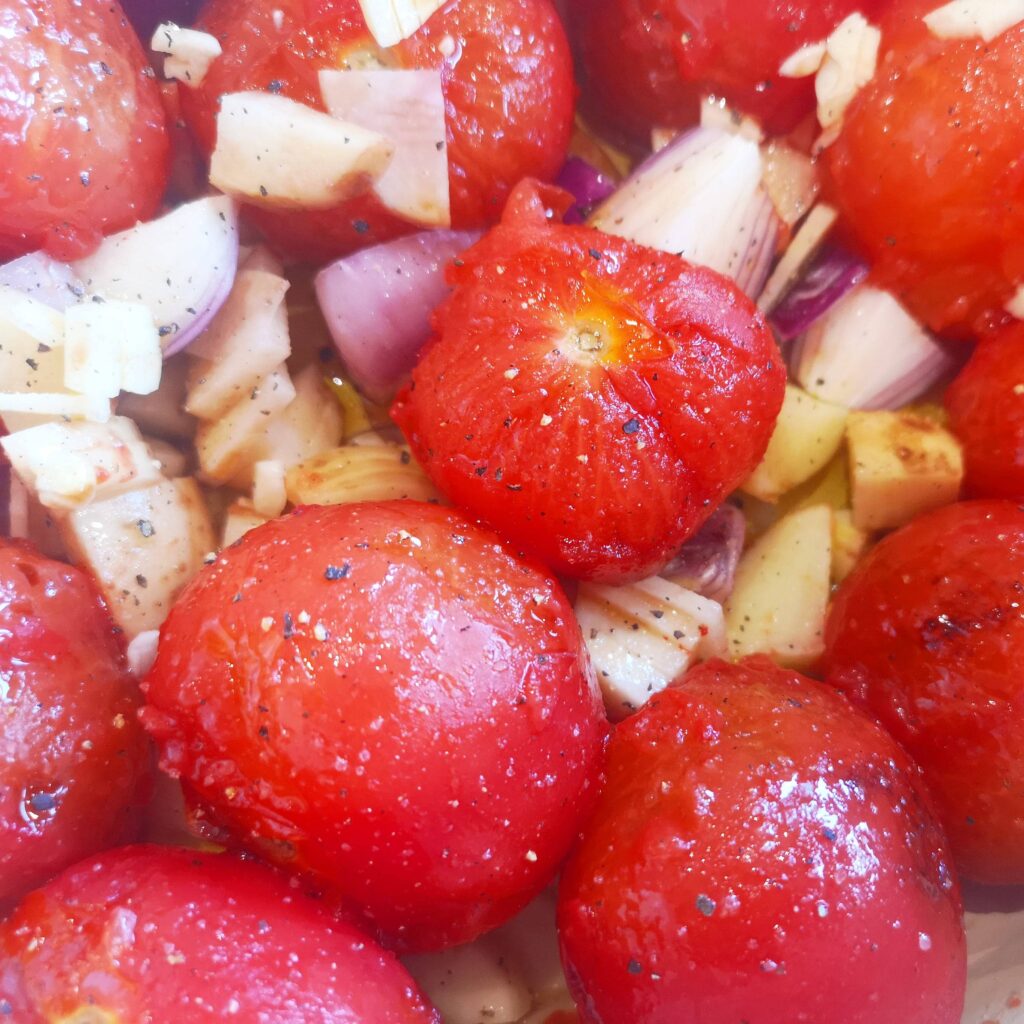 Bake for around 15 minutes until you see colour on the potatoes and onions
Add the pasta and stock.  Put the lid on the dish and return to the oven
Cook for 30 minutes.
Remove from the oven and carefully blend the soup.  Don't worry if you have a few lumps but try to get it fairly smooth.
Add 1/2 teaspoon paprika and a pinch of sugar.  Stir and return to the oven for around 20 minutes without the lid
While the soup is in the oven, prepare the toppings
Thinly slice some chorizo and slowly cook in a frying pan until well done – no need for additional oil.
Lay some small tomatoes in the baking sheet and bake in the oven while the soup cooks.
After 20 minutes your chorizo should be crispy, your small toms should be roasted and tour soup should have slightly reduced in volume.
Taste the soup, adding salt and pepper as required
Serve with a splash of cream, a tumble of toms and a fan of chorizo 😁
I promise you, once you try making tomato soup this way, you'll never go back.  It's so simple, fresh and with the toppings it looks so fun!
The potatoes make the soup feel creamy and smooth and the roasted toms are like little pops of flavour as you eat.  Let children choose which toppings they'd like and you're already on to a winner.  They'll gobble up a big bowl of their five a day with glee.
Love Rachel ❤️