We bought alot of pumpkins this season – ALOT.  Since they keep for so long, are tasty and full of nutrients, I'm keen to avoid wasting them and so I've been experimenting with ways to use them up.
This risotto dish is not particularly virtuous, although it could easily be made so.  Remove the bacon and wine and replace the butter, stock and cheese and you have a very virtuous meal indeed.  Alternatively you can make it my way – which is delicious!
For two small servings or one massive serving
You Will Need
Approx 50g pumpkin
50ml white wine
1/2 cup risotto rice
500ml chicken stock
20g medium cheddar
1/2 onion
2 cloves garlic
Bunch of sage leaves
2 rashers of smoked bacon
Olive oil
Butter
Black pepper
Smoked paprika
*AD plates gifted/collab with Royal Stafford
Method
Preheat oven to 200
Peel the pumpkin and remove the seeds  – you can roast these separately
Cut into chunks and place in a roasting dish
Drizzle with olive oil and bake until the flesh is soft and the edges are browned
In the meantime warm your chicken stock and keep warm while you cook the rice
In a frying pan, melt a teaspoon of butter with a glug of olive oil
Finely chop the onion and gently cook in the buttery oil for ten minutes
Add one crushed clove of garlic and cook for a further five minutes
Rinse your rice and then add to the frying pan – stir well until every grain is coated
Add the white wine and stir until it pretty much disappears
Add the stock one ladle at a time.  Stir constantly and wait for each addition to be absorbed before adding the next
Once all the stock has been added, cover and set aside
Cut the bacon and sage into thin strips
In another pan, melt a teaspoon of butter and add the bacon and sage
Fry until crispy
Grate the cheddar and add to the risotto.  Stir until melted
Gently stir in the chunks of roasted pumpkin
Serve with the sage and bacon on top and sprinkle with a little pinch of paprika and black pepper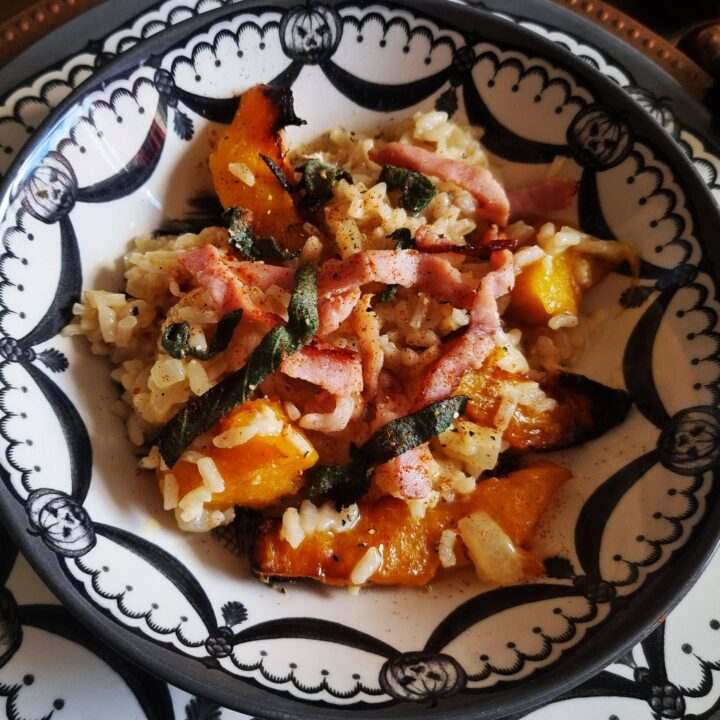 I could eat about 2 tonnes of this stuff!  I'm well aware that this isn't a quick and easy dish.  Risotto is a labour of love but there's something very soothing aboit standing in a warm kitchen and stirring a gently bubbling pot.  I hope you enjoy it as much as I do.
If you'd like some advice about how to check if your pumpkin is edible – click here.
Love Rachel ❤