Since Dorothy discovered that people could actually go to the top of Blackpool Tower, she's had it firmly at the top of her to do list!  So she was thrilled when after a day of adventures in Blackpool, we made our way up to the 5th floor.  When we got there I was surprised to learn that a 4D movie experience was included with our ticket for the Blackpool Eye!
As you can see the 4D glasses make you look like super cool musicians about to drop the hottest track of the year!  The 4D experience was quite cool.  The audience stands on a platform and leans back to get the full effect, but there are spaces for wheelchair users too.  We were treated to the sights, sounds and smells of Blackpool through the eyes of a very imaginative little boy – there were even bubbles!  I won't give anything else away – you'll have to see it for yourself.
After the 4D performance which lasted about 5 minutes, we were directed into two large lifts.  The lifts take about a minute to get to the viewing platform at the top of the tower where famously theres a glass floor!
Many people are frightened of the glass floor – which by the way, can hold the weight of two elephants – but not this girl!
The viewing platform is completely enclosed so it feels very safe and you're treated to panoramic views from 380 feet above Blackpool's world famous promenade.   Only one section of the floor is glass so those who aren't as keen as Dorothy can easily avoid it.
We were promised a bar but we didn't see one (currently closed) and Dorothy and M did a very good job of exploring the nooks and crannies of the viewing platform.  Indeed it didn't take Dottie long to find the stairs to the next floor where things aren't quite so enclosed…
..and then the next floor where M became a little less sure that she wanted to be very high up.  Dorothy on the other hand.
The girls even found a final set of stairs that took them so high up that they were actually in the pointy bit at the top of the tower!
At this point everyone's sinuses started to feel a bit funny, so we made our way back down to ground level!
M is an adventurous little girl and her hesitancy about the higher levels was a surprise.  But it's such an unusual experience that its difficult to predict how children (or indeed adults) will respond.  My advice would be to show them these pictures so that they know what to expect and explain that they'll be perfectly safe as the Eye Experience is enjoyed by thousands of people every day and the tower has safely stood above Blackpool Since 1891.  The worst that's going to happen is they're going to get messy hair from the wind!
Despite the hesitancy, both children really enjoyed their trip to the topmof the tower and were full of beans about it afterwards.
The stairs to the uppermost floors aren't the easiest to climb but they're one way, there are sturdy rails to hold on to and nobody is rushing you along.  But if you're not able to take the stairs, you're not going to miss out.  In many ways the best views are from the viewing platform, and as you're sheltered from the wind there, those who are a little nervous of heights may feel happier staying where they're closed in.  You can spend as much time as you like up there – within reason of course.  I don't think you'd be allowed to set up a picnic or anything but your visit isn't timed.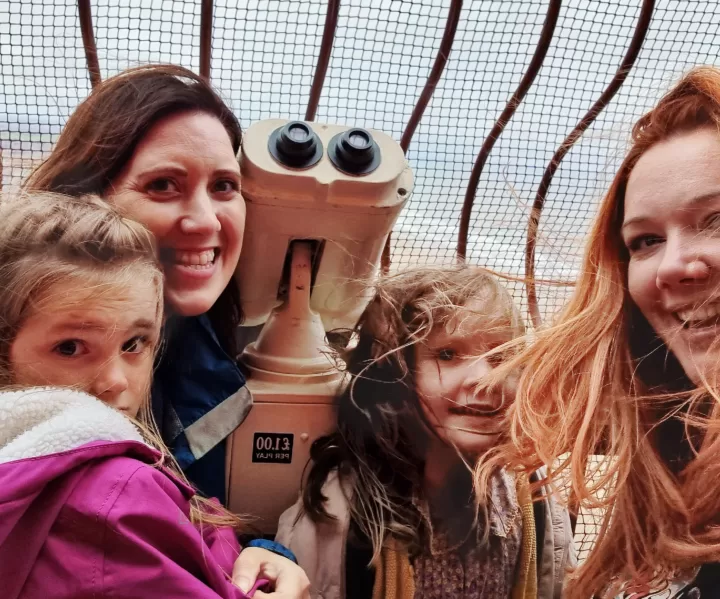 All in, I think this may have been Dororthy's favourite excursion of her entrire life so far!
Top Tips
Wear flat shoes
Bring a jacket – it's cold
Have a bobble handy to tie back long hair (it gets windy up there)
Have a wee before you join the queue for the 4D experience – you won't get a chance after that and there's nowhere at 401 ft to have a sneaky bush wee
If possible, use a baby carrier instead of a pram
Bring pennies for the penny squashing machine and a few pounds for the telescope
Love Rachel ❤
*complementary tickets as part of a press trip