This is the first year that I've grown Lunaria in our garden.  It's also called Honesty and it's grown for its beautiful flowers and it's fantastic seed pods.
The flowers come in white and shades of purple but mine all came up white.  They were one of the first plants to flower in the Fairy Garden and they really lit up the space.  They smelt great and flowered for some time.  After the flowers came the seed pods and it was for the seed pods.
They're like green discs.  When they dry the outer casing can be removed along with the seeds, to reveal paper thin, mother of pearl – like coins.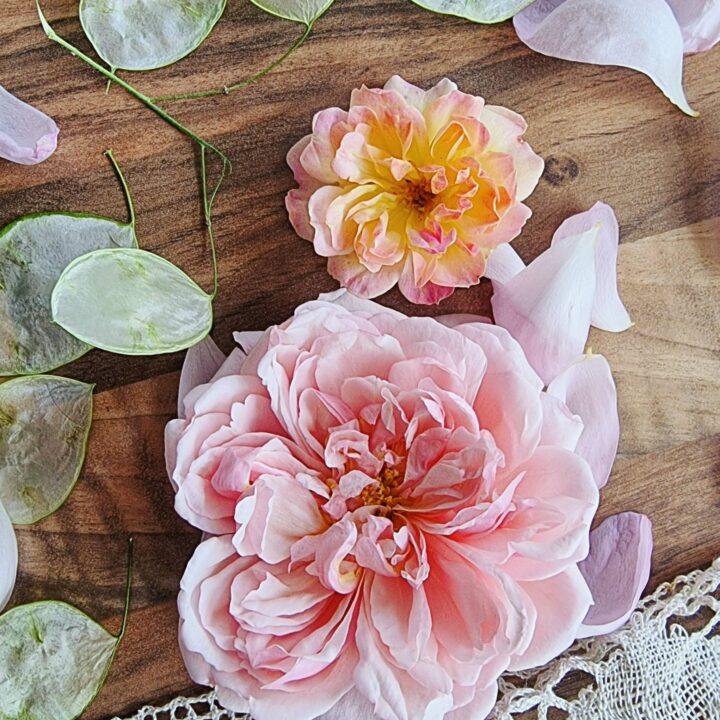 My plan is to make a wreath for the front door but on a drizzly day, Dorothy and I decided to make use of the coins that fell off when I was 'uncasing'.  Since it was so gloomy, a candle holder seemed to be the perfect thing to make.
If you haven't grown Lunaria, you can buy the stems online or in floristry shops.
You will need
Lunaria seed pods – uncased
Glass jars
PVA glue
Tea light candles
Method
Trim the stems off the Lunaria discs
Working from the rim down and concentrating on a small area at time, add a thick layer of glue and stick on a row of discs
Add more glue to the jar and make sure some is brushed on to the bottom of the row of discs
Stick down another row making sure that it slightly overlaps the first
Continue one row at a time until you've covered the jar
Allow to dry completely
As you can see some of the rows are neater than others.  Thats because this is a great craft to let children help with and Dorothy definitely enjoyed getting involved.  It really doesn't matter if some of the rows aren't as neat as others.  The overall look is almost better if they aren't perfect.
I love the soft glow that comes from these delicate candle holders – perfect for adding a little hygge to your home.
Love Rachel ❤