*I've added an affiliate link to the end so that if you do decide to buy, I'll earn a little bit of money.  There's a video at the end too❤️
Last night a Christmas present changed my life – no really!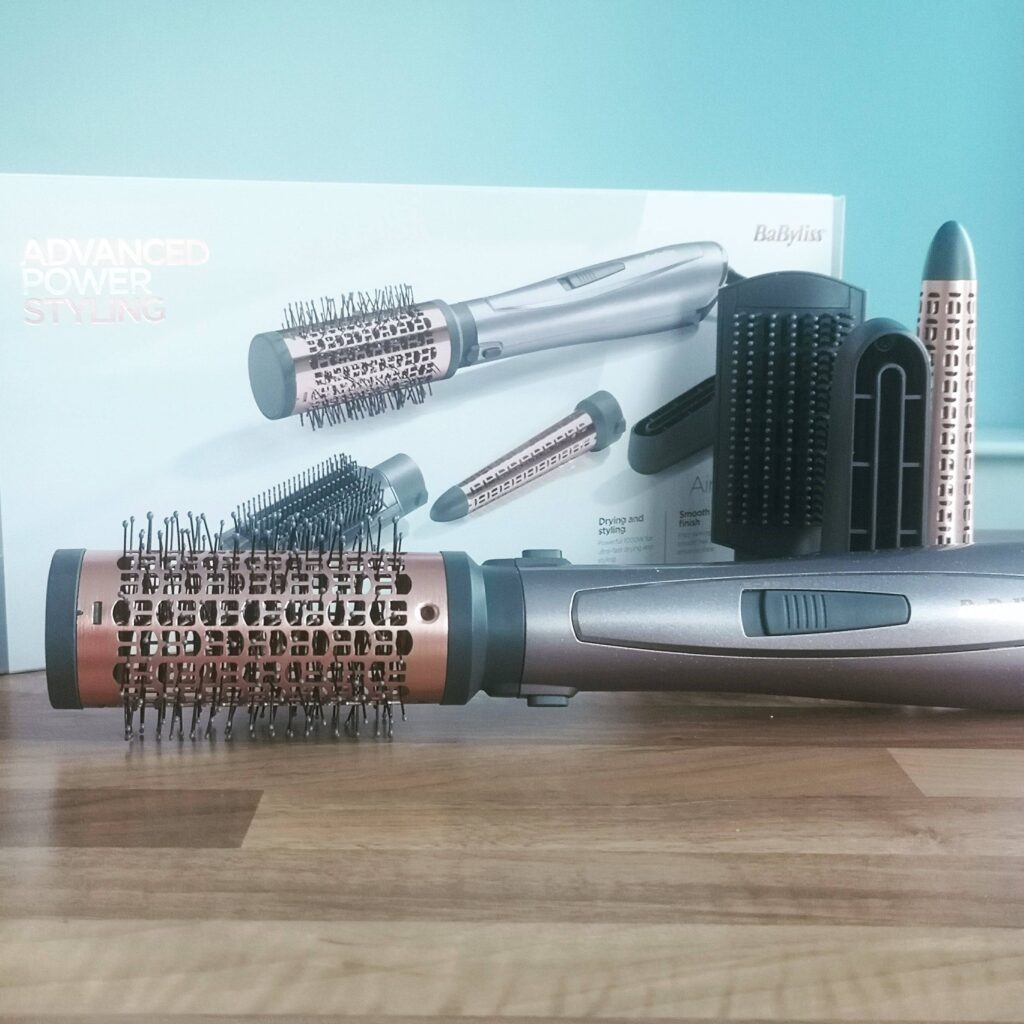 If you've read my blog for a while you'll know that I have Ehlers Danlos Syndrome.  It's a genetic condition which means I have weak, loose joints that dislocate easily.  It's painful and impacts my mobility to varying degrees each day.  On top of that I injured my shoulder and neck in an aeroplane accident in 2019. Yes I realise how dramatic that sounds – anyway because of this injury I can't hold my left hand above my head for long periods of time.
As a result of these physical challenges I've struggled to do my hair.  It's thick and takes ages to dry naturally so I tend to shower in the evening and let it dry overnight.  I really can't blow dry it.  The way that you grip a hairdryer, the weight and the movement is so painful and I just don't have the control to use a brush and hairdryer at the same time anymore.  So even if I did just hold the hairdryer still, I'd end up with a frizzy mass of hair!
In alot of my Instagram selfies, I have wavy hair and I create this look by using a Miracurl which I'll review separately.  It takes me about 45 minutes which is aaaages with my joints but lasts for days so I figure it's worth it every now and again.  In the weeks where I don't have it in me to curl it, I just tie it in a pony tail.
Well my friends, those days are gone.  Never again will I go to sleep with wet hair – not when I can go from wet and tangled, to this….
..in around 10 minutes and pretty much one handed!
The Airstyle 100 has four attachments – a kind of focused hair drying nozzle, a curling wand, a smoothing brush and a large round brush.  I probably won't use the curling wand but I'm pleased to see it comes with a heat proof glove!
The base of the styler, the part that you hold, is very wide which is brilliant for my rickety hands.
There's a really simple switch with a cold, warm and hot setting.  I tend to hold styling equipment with a death grip 😂 and I'm always accidentally switching buttons off while I'm using them.  This sliding switches work so much better for me.
Although it's lightweight, the base is quite long which is great because the air vent is along way from where you're drying, meaning you don't accidentally suck your hair up!
Its so easy to use!  You start by gently towel drying your hair – just so that it's not dripping.  Then before you brush, you use the hair drying nozzle.  I don't have a particular method for this – I'm a bit hap hazard.
Once it's about 80-90% dry, I give it a brush.
If I was more dextrous, I'd section my hair at this point, but I'm not so I don't 🤷 Instead I just dive in with the round brush attachment.  I brush through my hair, curling under towards the bottom.  To finish I take a U-shaped section from the top of my head and brush that up and over.
And that's it.  It's done.
I prefer a bouncy style but if I wanted a more sleek, straightened look, I'd use the smoothing brush.  This brush is great if you end up with a random kink in your hair or to remove the mark that bobbles leave when you take them out.
I know that some people will think I'm being vacuous for getting so emotional over a styling gadget but it's been two years, TWO YEARS since I've been able to blow dry my own hair.  It does things to you when you don't feel polished or independent and it's quite something to suddenly have the tools to feel groomed again.
Mr P strikes again with his most excellent present-choosing skills.
Love Rachel ❤️
Ps. Click on the image below for a link to the product