We've had this little cupboard for years, decades even.  I bought it for Beth when she was a baby and I'd planned to store her CDs in it (gosh remember CDs), but the shelves were the wrong size.  So it was used for lots of other things – dolly clothes, lego instructions, hair accessories – and then passed to Dorothy who hasn't really used it much at all.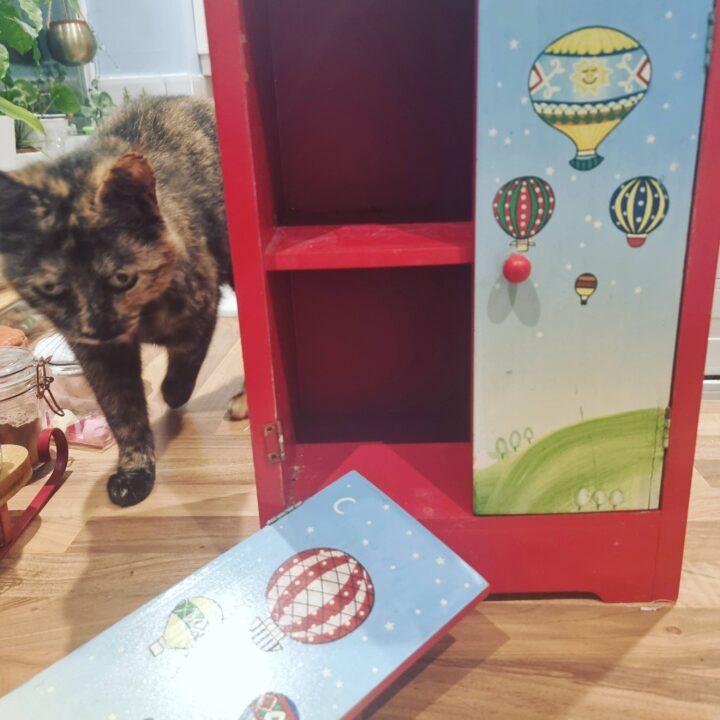 I think because Dots has lots of other storage and because the cupboard is small, it just sits in the corner of her room getting more and more damaged each year.  So I had a quick Google to make sure it isn't a special piece (it's not) and I set about turning it into something else.
First of all I assessed the damage.  I like the red and there are only a few scuffs so I decided to keep it that colour for now.  One of the doors has fallen off.  The hinges were still there but the teeny tiny screws are long gone so I needed to replace them.
I gave the cupboard a good clean and then gently sanded the areas I wanted to paint.  Initially that was just the doors and the top but it looked a bit rubbish that was so I decided to paint the entire outside.  I used some silk paint that I left over from when I redecorated Dorothy's room.  The shade is Almond and I just love it as an alternative to plain white.  It took 3 coats to properly cover the hot air balloons – they really fought back – but after that, all of the damage was covered and the red really started to pop.
I'd done a rubbish paint job and the finish was far from smooth so I gave the whole of the outside a light sand.  I took off a little extra on the edges to create a slightly distressed look.  Then I reattached the door with the tiniest of screws.
I had some sweet retro paper napkins hanging around.  I peeled the layers of one of them apart and cut around the Father Christmas.  Then I used Mod Podge to attach it to the doors.  I sealed the whole thing with a spray sealant.
I think the Christmas cupboard makes a great addition to my Hot Chocolate Bar and when all the Christmas decorations are put away  it'll be a great place to store my most delicate baubles.
What do you think?
Love Rachel ❤️