With all the 'interesting' weather we've had recently, I've been clinging on to every sign of Spring I see!
Daffodils shooting up in the park, birdsong in the mornings and Easter eggs in the shops. Actually scratch that, our local supermarket has had chocolate eggs on the shelves since the first of January – but it's finally feels Spring-like enough to decorate the house for Easter.
I love this time of year and I'll take any opportunity to decorate! These little decorations are inexpensive and simple as making them is more than a little bit addictive!
You can use fabric scraps, which I really love as I hate waste, and either hang with a little string or ribbon or pile into a bowl to create a lovely centrepiece.
You Will Need:
Polystyrene eggs (available from  most craft shops)
Pen
Sharp knife
Blunt knife or lolly stick
Scraps of fabric
Ribbon or String
Method:
Mark out two lines with a pale coloured pen or pencil, dividing the egg into four.
Score out the lines with a sharp knife, up to 1cm deep.
Cut your fabric into a teardrop shape that will more than cover a quarter of the egg.  It's best to cut too large a piece than too small as you can always trim the piece down.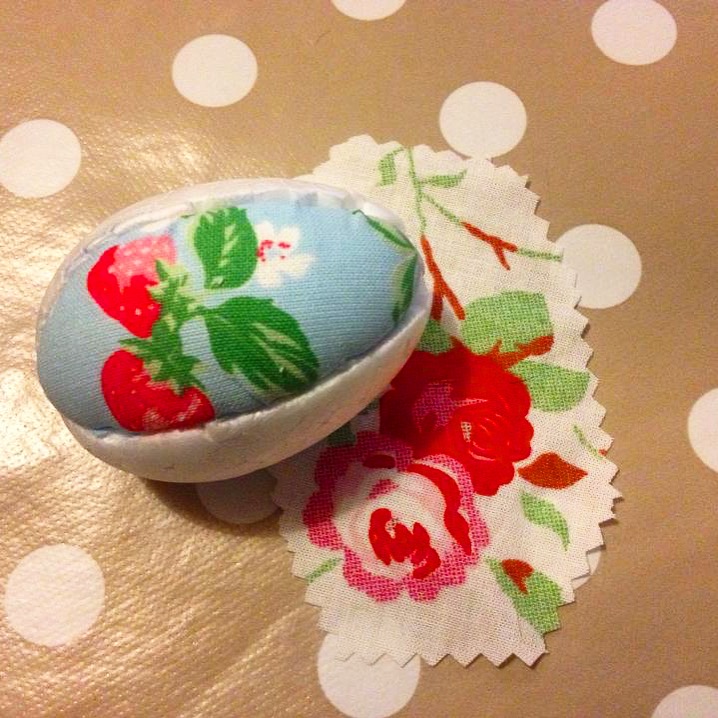 Push the edges of the teardrop into the scored line with a blunt knife or lolly stick and trim any excess
*TOP TIP** Fit one piece and then remove and use as a loose template.
If you're struggling to get your fabric to stay in place, use a little glue around the edges.
Either use the eggs as they are, as a beautiful decoration in a bowl or add ribbon or string to hang.
Do you decorate your home for Easter?
Love Rachel ❤