This place is the stuff of dreams.  In fact I've  been dreaming of visiting the vivid blue home of the late Yves Saint Laurent since I was a little girl and look, here's my littlest girl running through it.
The famous blue house and garden was the vision of Orientalist artist Jacques Majorelle over forty years.  He lived in the one-hectare botanical garden and home in Marrakech until his death in 1962.
The Cubist building named Villa Oasis, became so famous that it's vivid colour is now referred to as Majorelle blue.
Majorelle planted the walled grounds of his home, in the beautiful city of Marrakech, with an eclectic mix of shrubs, vines and trees, many of which were souvenirs from his frequent travels.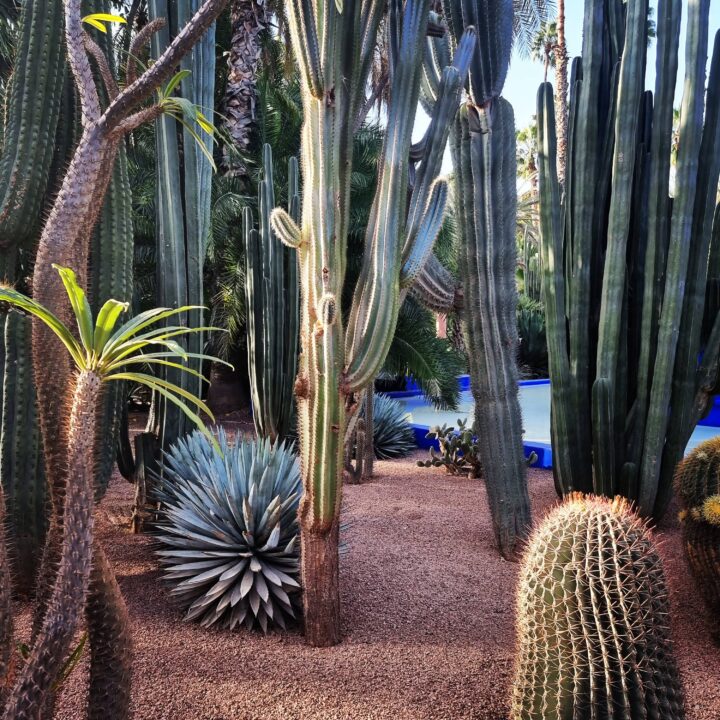 The current gardeners do a fantastic job of maintaining the essence of his garden and you can still feel the artist's eccentricity as you explore.
In the 1970s Yves Saint Laurent became the resident of Le Jardin Majorelle.  He lived there with his partner Pierre Berge amd by all accounts it sounds like they lived there very happily.  I mean, it's as close to paradise as I've ever seen.
Yves Saint Laurent's love of Morocco is been well-documented and in 1966, along with his partner Pierre Bergé, he became the proud owner of Le Jardin Majorelle.
The garden is fully accesible with elegant vistas and smooth, wide paths.  There are bright sunny clearings, water features, shady corners and plenty of seating dotted about should you need a rest.  Tickets or tours can be booked online or you take your own guide like we did.
This was something of a pilgrimage for me and I feel very grateful that Phill arranged our visit as a surprise for my birthday.  We all enjoyed it but young children may not care to spend too long there as it is essentially 'just' a house and garden.  The grounds are very quiet but not stuffy in the sense that children could explore and people could chat without feeling out of place.
The iconic blue house, designed by French architect Paul Sinoir is now home to a museum dedicated to Yves Saint Laurent and local artists.  Along with the charming cafe and enchanting gardens, it's well worth a visit.
A visit to Le Jardin Majorelle is however, not a cheap do!  Concessions are free but adult tickets cost around £27.  If you hire a tour guide, they may be able to negotiate a better rate and it's always worth asking at your hotel or Rhiad for advice on the best deals.
Love Rachel 💙